I subscribe to one of the major ancestry database vendors. At times it feels like I'm wandering through the desert on a horse with no name. I assure you, it is deliberate and meaningful research.
I'm a writer. We research, okay? It's not wasting time nor is it procrastination. Let me repeat, it is r*e*s*e*a*r*c*h.   
I've discovered sixth generation half-siblings to the third wife of my 7th great-grand whatever. Who, by the way, have no blood relationship to me. Ummm….Maybe I get carried away with this.
Except for a few crazy drunk uncle tales, may their souls rest in peace, no family lore passed from one generation to the next. No who's who. Nothing. The biggest mystery always has been my dad's grandmother.
All I had was her first name and her married last name. First name: America. America WHO for crying out loud?!
One fine day, I was meandering down 'deliberate and meaningful' research avenue and voila! Someone had posted her first, middle, and maiden name.
Gold strike!
A whole new road to travel and this time, my horse has a name. Generation after generation.
Back to the 1600's. Massachusetts? Really? Salem? Come on. You're kidding, right?
My 9th great grandmother was…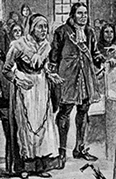 Retrieved from:   http://salem.lib.virginia.edu/people?group.num=all&mbio.num=mb21
Rebecca Town Nurse
B:   

16 FEB 1621;

Christened  21 FEB 1621

•

St Nicholas Church, Great Yarmouth, England
D:  

19 JUL 1692 (HANGED)

•

Gallows Hill, (Danvers) Salem, Massachusetts
The line from Great Grannie America to Way-back Great Grannie Rebecca is straight as an arrow. Alrighty, then. Now I'm a rabid consumer of all things witch-trial related. If you think these times are crazy, you haven't seen anything.
Interested in learning more about the Salem Trials?
Incredible historical archive available online from the University of Virginia  http://salem.lib.virginia.edu/people?group.num=all&mbio.num=mb21
Three excellent fictional novels set in this time.
The Physick Book of Deliverance Dane by Katherine Howe
The Heretic's Daughter by Kathleen Kent
Deliverance from Evil by Frances Hill
Three Sovereigns for Sarah–A PBS 3-part video
Rebecca had two sisters. One fled after her trial and came back to tell the story.  This is a fictional account but based on archived documents.  Available for streaming on Amazon Prime.
All available from Amazon. 
⊕⊕⊕⊕⊕⊕⊕⊕⊕⊕
I'd love to hear where the journey down research avenue has taken you.
Please leave a comment!